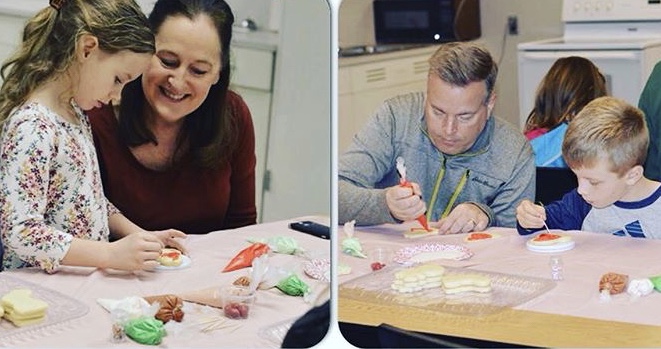 Baking Classes
Winter Programs
Cookie Decorating
12 Yr Olds - Adults
Join "Pink Slip Cakery" for some holiday-themed cookie decorating fun! A live demonstration of each skill will be performed and then participants will be able to test out their new skills! We will also work on the basics of sugar cookies, including baking tips, mixing icing, icing consistency, filling bags, piping, flooding and wet-on-wet techniques. Each participant will leave with a dozen fully decorated cookies!
Cost: $35r/$50nr
Instructor: Lisa

Hann

(Owner of Pink Slip Cakery)
Valentine's Cookies: Tue, Feb 8 | 6:30-8:30pm
Location:

Cityside

Middle School - Room 135
Spring & Summer Programs
Kids Cake Camp
8-14 Yr Olds
In this fun, four-day camp, young bakers will explore the world of baking and create a delicious array of sweet treats. Our theme this summer will be Koala-ty Time – think Australia and Koalas! Pink Slip Cakery will introduce kids to different fundamentals each day.
Day 1 - Cookies: Learn how to decorate cookies using different icing mediums and techniques
Day 2 - Cake Pops: Use decorating skills to make creative cake pops
Day 3 - Cupcakes: Mix cake batter and frostings to make cupcakes
Day 4 - Cake: Learn the basics of leveling, filling, frosting, writing, simple borders and a fondant figure
Register Here

(Online Registration Opens Feb 7 @ 5am)

Registration Deadline (Sessions 1 & 2): June 17
Registration Deadline (Sessions 3 & 4): July 29
Cost: $175r/$190nr
Instructor: Lisa Hann (Pink Slip Cakery Owner)
Session 1: June 20-23 | 10am-12:30pm
Session 2: June 20-23 | 1:30-4pm
Session 3: Aug 1-4 | 10am-12:30pm
Session 4: Aug 1-4 | 1:30-4pm
Location: Cityside MS | Room 135