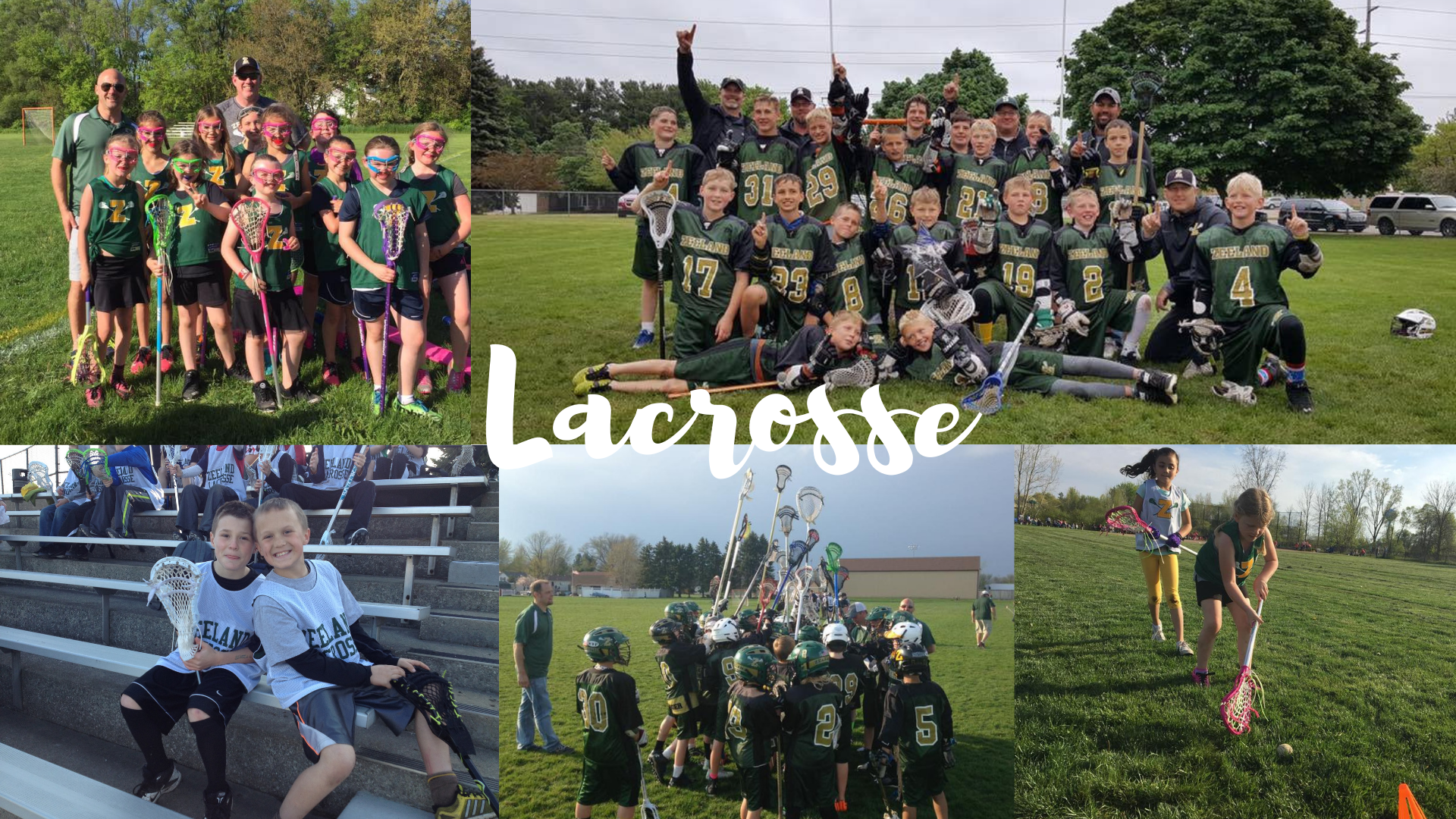 Youth Lacrosse
Winter Programs
CO-ED LACROSSE CLINIC
3rd-6th Graders
This clinic is an introduction to the sport of lacrosse! Participants will learn how the game is played, positions, equipment and basic rules, while also working on passing, scooping, and shooting skills. The objective of the clinic is to give kids (and their parents) an opportunity to learn about this rapidly growing sport in preparation for our Spring Lacrosse season.
Instructor: Ben Lichtenwalner
Cost: $10r/$25nr
Session 2: Sat, Jan 22 | 1-2pm
Location: Zeeland West High School Aux Gym
Spring & Summer Programs
BOYS & GIRLS LACROSSE LEAGUE
3rd-6th Graders
Join our Lacrosse Leagues to improve your skills, have fun and to make lifelong memories! Participants will learn the fundamentals of the game through 2-3 practices per week and 8 games. Boys will compete in the Lakeshore Lacrosse Conference and girls will compete in the Southwest Michigan Recreation League. Jerseys will be provided.
Registration Deadline: Sat, Feb 5
3rd-4th Gr Cost: $99r/$114nr
5th-6th Gr Cost: $123r/$138nr
League Dates: Mar 7-End of May
Indoor Practices: Mar 7-31
Outdoor Practices: Apr 11-End of May
Boys Equipment Needed: Helmet, sports mouth guard, shoulder pads*, arm pads, gloves, athletic cup, offensive lacrosse stick | *NEW FOR 2022: Shoulder pads need to be marked as "NOSAE ND 200"
Girls Equipment Needed: Goggles, mask, sports mouth guard, cleats, girls stick
3rd-4th Gr Boys Practice & Game Location: Creekside MS
5th/6th Gr Boys Practice & Game Location: Quincy Elementary
3rd-6th Gr Girls Practice & Game Location: Roosevelt Elementary
---
GIRLS LACROSSE CLINIC
3rd-6th Gr
Join us to improve your stick skills, offensive and defensive skills and gameplay! All participants need a girls stick, eye mask, and mouthguard. Participants will also receive a t-shirt. Register based on 2022-23 grade level
Register Here

(Online Registration Opens Feb 7 @ 5am)

Cost: $40r/$55nr
Coach: Brooke VanderStelt (Zeeland Varsity Girls Coach)
Dates: July 19 & 21
Time: 4-6pm
Location: Zeeland Stadium