Board of Education
public notice for school board meeting
The Zeeland Public Schools Board of Education has resumed in person meetings; parents and community are welcome to attend.
If you are a person with a disability who cannot participate in the meeting through Zoom because of your disability, please contact Mary Miilu, mmiilu@zps.org, at least 72 hours prior to the meeting and we will provide assistance to enable your participation.
This meeting is a meeting of the Board of Education, in public, for the purpose of conducting the specific School District's business on the Agenda. However, there is time for public participation during the meeting as noted below. If you would like to provide input or ask questions on any business that will come before the Board at the meeting, you may also email members of the Board by going to the board page: Board of Education
Public Notice for SPECIAL board Meeting
DATE OF MEETING: Tuesday, December 6, 2022
PLACE OF MEETING: Creekside Quack Shack, 179 W Roosevelt
TIME: 5:30PM
Public Notice for regular board Meeting
DATE OF MEETING: Monday, December 19, 2022
PLACE OF MEETING: New Groningen Elementary, 10542 Chicago Drive
TIME: 6:00PM
Regular Meeting Agenda
TELEPHONE NUMBER OF PRINCIPAL OFFICE OF BOARD OF EDUCATION: 616-748-3002
How do I register to participate in the public comment portions of the meeting?
Members of the public who wish to make comments must register their intention to participate in the public portion of the meeting prior to the start of the meeting, as permitted by notifying the Zeeland Public Schools Board of Education. You may email Mary Miilu in advance at mmiilu@zps.org, or register in person with Brandy Navetta prior to the meeting being called to order. When you register you must include all of the following information to participate: 1) your first and last name, 2) your address, and 3) whether your comment is regarding an item ON or NOT ON the agenda.
To provide for orderly public participation, the President will recognize all persons who have registered to speak during the earlier opportunity for items ON the agenda and then later during the meeting those who have registered to speak during the opportunity for items NOT ON the agenda.
Public comment is open to in person participants and not available for those joining via ZOOM.
Public Comment Rules
Up to one hour will be reserved for this forum, with a maximum of five minutes per individual. No participant may speak more than once. If more comment is needed than the one hour time allows, there will be a public comment time following the regular meeting. There will typically be no attempt to comment or give answers at this meeting. Inquiries will be referred to the superintendent for response at a later time.
Chad Creevy
Board Secretary
Board of Education vacancy announcement
Zeeland Public Schools is seeking applications to fill an open board seat following the resignation of Mr. Todd Brennan, effective November 14, 2022. The ZPS board has 30 days to fill the seat by appointment.
That appointment will be filled to complete Mr. Brennan's term, which is December 31, 2024. At that time, the seat would be open in the general election for candidates to run for a six year term.
The requirements of being a public school board member are to be a registered voter in the school district, to be at least 18 years of age, to be a citizen of the United States, to be a resident of the State of Michigan for at least 30 days, and a resident of the school district.
Persons interested in this position are asked to send a letter expressing their interest in the board position and their qualifications to President Tom DenHerder, in care of Mary Miilu, Administrative Assistant to the Superintendent and Board of Education, at mmiilu@zps.org. It may also be mailed to ZPS Board of Education, 183 W. Roosevelt, Zeeland, MI 49424.
The deadline for applications to be received at ZPS is November 11 at 3 PM.
The ZPS board will discuss applications at a special meeting on November 14, immediately following the Regular Board Meeting at Zeeland West High School.
The board reserves the right to select an applicant, to interview some or all candidates, or other selection options not yet determined.
Board of Education Function
The primary function of the Board of Education is to oversee the education of people in our community. The Board is responsible for establishing and implementing all district policies and procedures required to maintain an excellent educational program for all students in a safe, secure learning environment. These policies and procedures guide the Superintendent and staff in their daily duties.
Board of Education Meetings
The Zeeland Board of Education conducts its regular monthly meetings at 6:00 p.m. in the Zeeland West High School cafeteria, 3390 100th Avenue, unless otherwise noted. These business meetings provide time for you to address the group with your remarks. This opportunity occurs at the start of each meeting during "acknowledgment of visitors" for items on the agenda, and the public comment at the end for non-agenda items. Each person is allowed five minutes to give comment. Participants must contact the superintendent's office ahead of time with contact information if you plan to speak to the board. This ensures that you are recognized at the start of the meeting. The Board occasionally announces a work study meeting to discuss one topic at length. We will list work study meeting dates and times in advance.
Special Accommodations
Persons with disabilities who need special accommodations when attending school board meetings should contact Mary Miilu in the Superintendent's office at 616.748.3002 three days prior to the meeting.
For further information, contact Mary Miilu, Administrative Assistant to the Superintendent, at 748-3002.
Communication Toolkit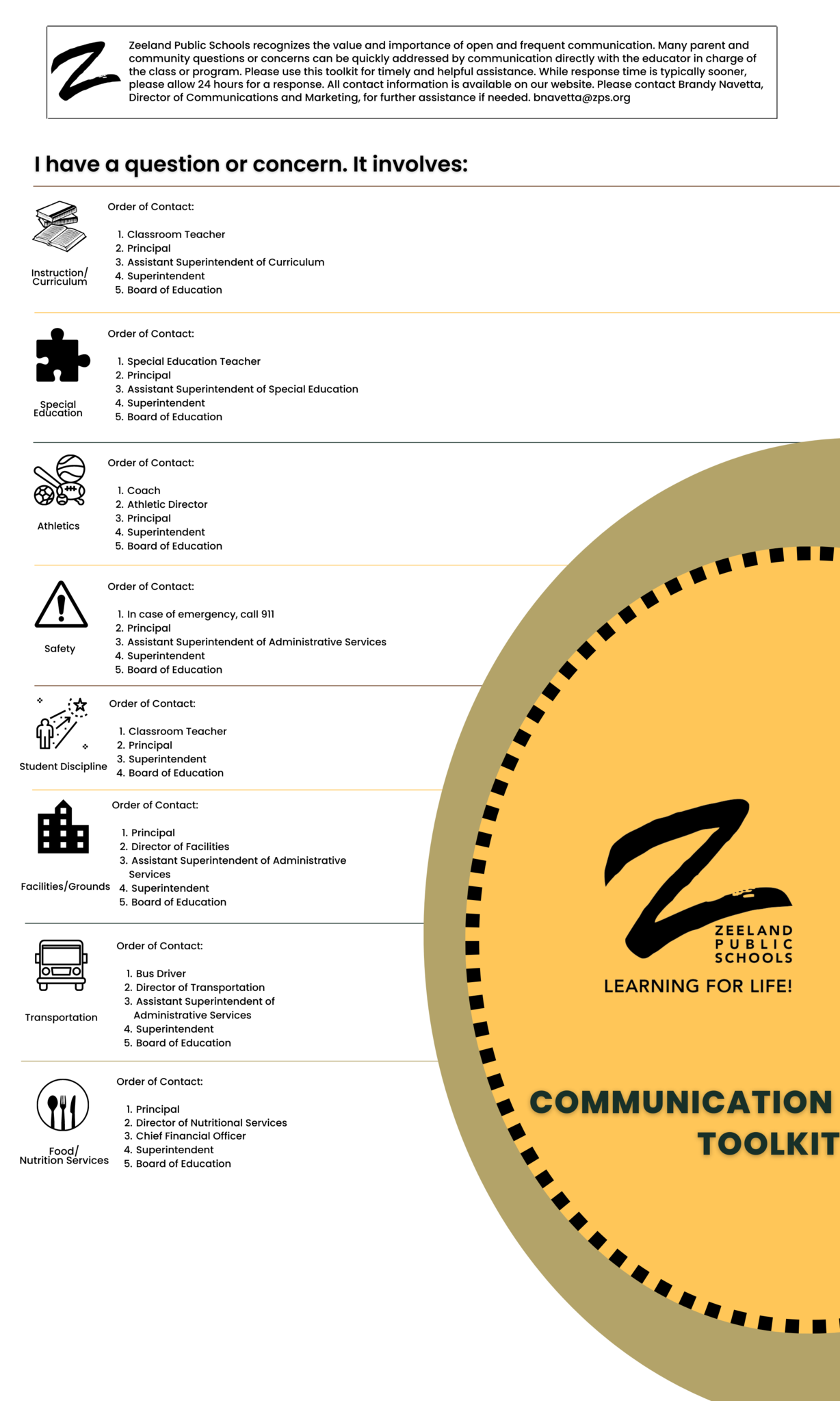 Policies and Bylaws

Read ZPS Policies and Bylaws
ADA Compliance
Zeeland Public Schools is committed to excellence in service and accessibility of web content for all of our clients and staff. As we work to improve these services, we have upgraded our website to be consistent with standards required for ADA compliance. If you find an issue with accessing content on the ZPS site, please report it to bnavetta@zps.org.