New Groningen Annual Report
Alternative Text: New Groningen Annual Report
February 1, 2022
Dear Parents and Community Members:
We are pleased to present you with the Annual Education Report (AER), which provides key information on the 2021-22 educational progress for New Groningen Elementary. The AER addresses the complex reporting information required by federal and state laws. The school's report contains information about student assessment, accountability, and teacher quality. If you have any questions about the AER, please contact Laurie Poll for assistance.
The AER is available for you to review electronically by visiting the following website https://bit.ly/3cTEbzo or you may review a copy in the main office at your child's school.
For the 2021-22 school year, schools were identified based on previous years' performance using definitions and labels as required in the Every Student Succeeds Act (ESSA). A Targeted Support and Improvement (TSI) school is one that had at least one underperforming student subgroup in 2018-19. An Additional Targeted Support (ATS) school is one that had a student subgroup performing at the same level as the lowest 5% of all schools in the state in 2017-18. A Comprehensive Support and Improvement (CSI) school is one whose performance was in the lowest 5% of all schools in the state or had a graduation rate at or below 67% in 2016-17. Some schools are not identified with any of these labels. In these cases, no label is given.
Fortunately, our school has not been given one of these labels.
Increasing academic achievement among all students and the specific subgroups in our building continues to be our challenge as a building. During the past year we have continued several initiatives to increase the performance of our students including a comprehensive phonics program in grades K-5th and rigorous reading program in grades K-5th. Our professional development has been focused on these programs. We have addressed the needs of our struggling students through a response-to-intervention program we call WIN (What I Need). All students will be provided an intervention period of reading and/or math that will help them to be successful with the Common Core State Standards.
State law requires that we also report additional information that we have included below from the 2019-20 & 2020-21 school years:
PROCESS FOR ASSIGNING PUPILS TO THE SCHOOL
Students in Zeeland are assigned based upon their geographical home location. ZPS also offers school of choice openings, which are placed after the residents of Zeeland are assigned to their home school. Our Spanish Immersion & Balanced Calendar PBL programs are filled on a first come, first served basis and may change the building of choice for students. There are 7 elementary schools in Zeeland and those schools feed into two middle schools, Cityside and Creekside. New Groningen, Roosevelt, ZQuest, and Quincy elementaries feed into Creekside Middle School and eventually to Zeeland West High School. Adams, Lincoln and Woodbridge elementaries feed into Cityside Middle School, and eventually to Zeeland East High School.
THE STATUS OF THE 3-5 YEAR SCHOOL IMPROVEMENT PLAN
Over the past three years, the district has been working through steps in the MICIP platform to identify three key goal areas: SEL (social-emotional learning), Mathematics, and English Language Arts. ZPS elementaries are in the process of implementing Second Step, a social-emotional core learning resource. At New Groningen our focus has been to build the Tier 2 interventions for students who have been identified on our SRSS-IE screener. A PreK-12 Math Coalition is working to examine math achievement and instructional practices across the wide. At New Groningen our focus has been to follow the pacing guide and identify students for math interventions. The district is just beginning to examine ELA data, following an implementation cycle that began 7 years ago to determine strengths and needs. At New Groningen we continue to strengthen our 90-minute block, focusing on small group instruction and conferring.
A BRIEF DESCRIPTION OF EACH SPECIALIZED SCHOOL
Students in the elementary program at Zeeland Public Schools are given the opportunity to participate in a variety of experiences in addition to traditional education programs that include special education, Gifted and Talented for 4th/5th grade students, Spanish Immersion, and Zeeland Quest (a K-8, year-round balanced calendar, project-based learning school).
IDENTIFY HOW TO ACCESS A COPY OF THE CORE CURRICULUM, A DESCRIPTION OF ITS IMPLEMENTATION, AND AN EXPLANATION OF THE VARIANCES FROM THE STATE'S MODEL
The Core Curriculum for our school is based upon the State of Michigan Standards and National Common Core Standards. This information is available at our school office or on our district website. Zeeland Public Schools makes sure our students are provided challenging lessons that are consistent across grade levels. A team of Zeeland educators regularly evaluates and revises our curriculum to ensure that classroom lessons meet state requirements for kindergarten through twelfth grade.
THE AGGREGATE STUDENT ACHIEVEMENT RESULTS FOR ANY LOCAL COMPETENCY TESTS OR NATIONALLY NORMED ACHIEVEMENT TESTS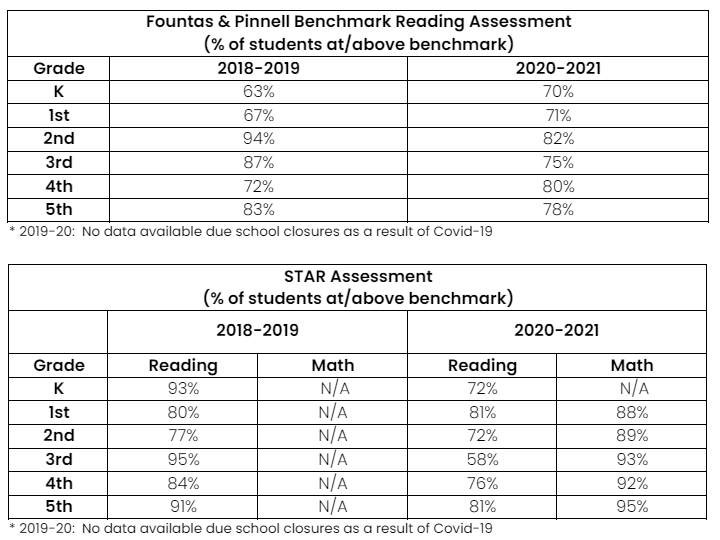 IDENTIFY THE NUMBER AND PERCENT OF STUDENTS REPRESENTED BY PARENTS AT PARENT-TEACHER CONFERENCES
During the 2020-21 school year, New Groningen had 509/521 comprising 98% of parents representing their student(s) at parent-teacher conferences.
CONCLUSION
ZPS is proud of the work happening in each building. The commitment of district staff to ensure that all Zeeland students are able to learn in an environment where they feel safe, valued, and loved is evident at all levels. With the partnership of family and community, we take pride in fostering lifelong learners.
New Groningen Elementary staff has worked very hard during the 2020-21 school year to ensure that every student receives the quality education that they deserve. We continue to strive toward excellence in our school and community. 'The mission of New Groningen Elementary School, in partnership with staff, family and community, is to promote learning as a lifelong goal by providing opportunities for all students to succeed.' We are 'Anchored in Excellence' at New Groningen Elementary in how we learn, how we act and how we serve others. New Groningen Staff will continue to give their best to each student who walks into the school each day during the 2021-22 school year. We are thankful for a school year that mostly consisted of in person learning.
Sincerely,
Mrs. Laurie Poll
Principal
Click to view other ZPS annual reports