Preschool Registration Information
Preschool Registration Information
BeGin with a virtual tour OF The ZPS Early Childhood Center

Learn More About Our PRograms by Reviewing Additional Preschool information
Your enrollment process for 2023-2024 will begin here with a time-stamped registration survey.
ZPS Staff Enroll HERE- (Link Live for '23-'24)
Current ECC Families Enroll HERE - (Link Live for '23-'24)
Public Enrollment HERE - (Link Live for '23-'24)
After completing the survey you will receive confirmation of your registration with additional information explaining the required paperwork and a non-refundable registration fee for tuition-based classes.
Applications for scholarships are accessible online at Help Me Grow. Assistance is available for income-based applications and scholarship information. Please call 616.748.3275 with your questions or to schedule a tour. The office hours are Monday-Thursday 8-4 & Friday 8-1.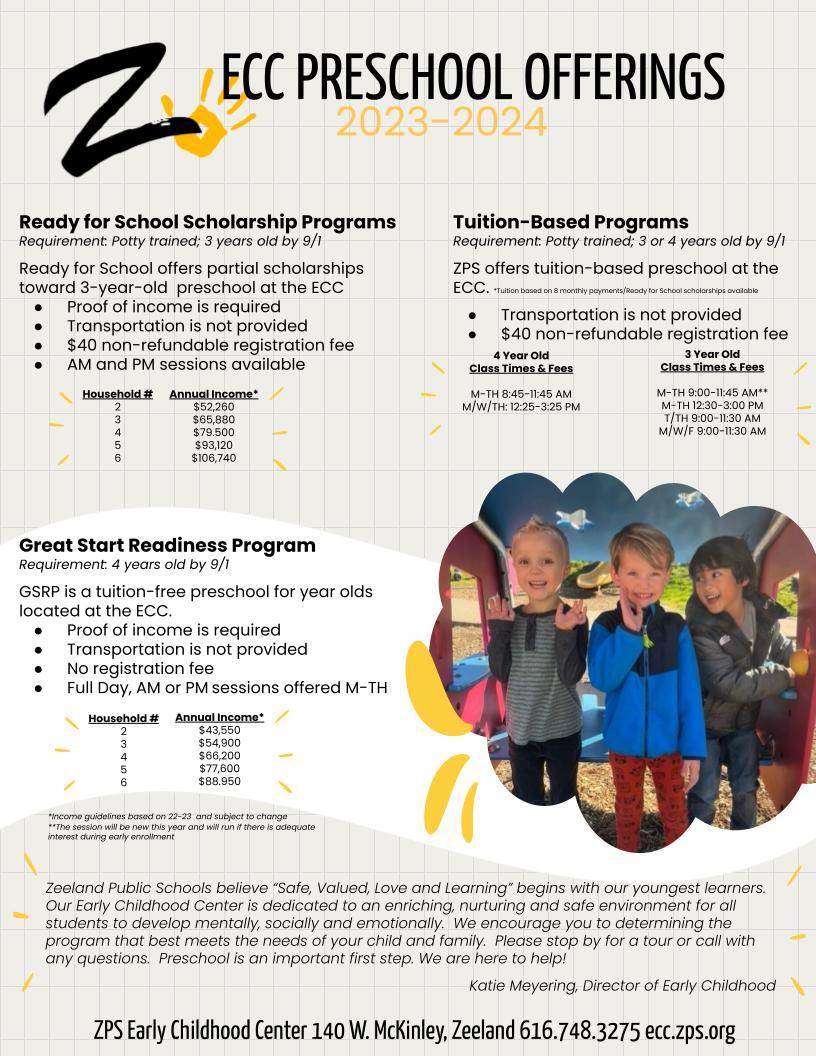 Income Guidelines for 2023-2024 School Year

GSRP (4 years old)
RFS Scholarships (3 years old)
Household Size
Annual Income
Household Size
Annual Income

2

$49,300-59,160

2

$59,160

3

$62,150-74,580

3

$74,580

4

$75,000-90,000

4

$90,000

5

$87,850-105,420

5

$105,420

6

$100,700-120,840

6

$120,840
Required Preschool Enrollment Forms InClude:
Enrollment Form
Immunizations
Birth Certificate