Preschool Registration Information
2022-2023 Preschool Registration opens online on January 27 at 9 AM.
BeGin with a virtual tour OF The ZPS Early Childhood Center
Your enrollment process will begin here with a time-stamped registration survey.
ZPS Staff Enroll HERE- (Live Link on 1/20)
Current ECC Families Enroll HERE - (Live Link on 1/20)
Public Enrollment HERE - (Live Link on 1/27)
After completing the survey you will receive confirmation of your registration with additional information explaining required paperwork and a non-refundable registration fee for tuition based classes.
Applications for scholarships are accessible online at Help Me Grow. Assistance is available for income based applications and scholarship information. Please call 616.748.3275 with your questions. The office hours are Monday-Thursday 8-4 & Friday 8-1.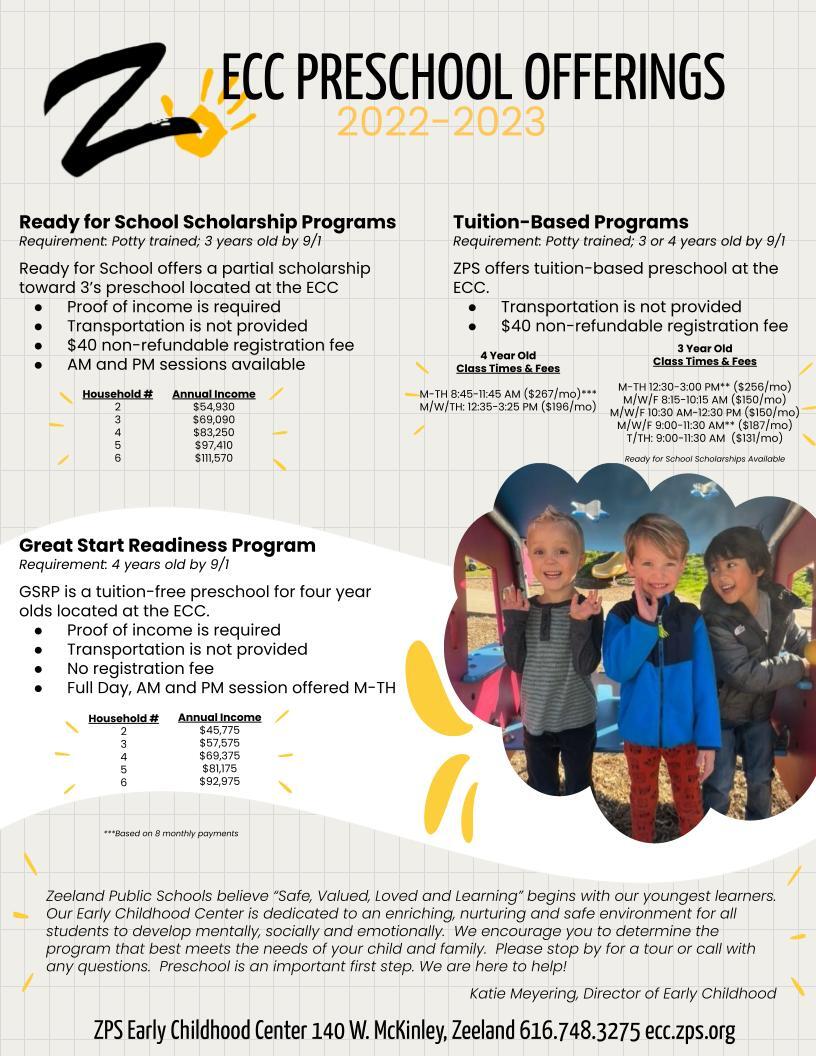 Income Guidelines

2022 GSRP (4 years old)
2022 RFS Scholarships (3 years old)
Household Size
Annual Income
Household Size
Annual Income

2

$45,775

2

$54,930

3

$57,575

3

$69,090

4

$69,375

4

$83,250

5

$81,175

5

$97,410

6

$92,975

6

$111,570
Required Preschool Enrollment Forms InClude:
Enrollment Form
Immunizations
Birth Certificate